REVIEWERS
Chandan Gomes

Artist (
www.chandangomes.com
)
Chandan Gomes has studied Philosophy at St. Stephen's College, Delhi (2009). Emotional and intellectual anxieties drive him as an artist.
He has won numerous awards and fellowships and has been exhibited widely – Les Recontres d'Arles, France (2018, supported by PHOTOINK), Kochi Muziris Biennale (2018-19), Foto Fest Biennale, Houston (2018), Serendipity Arts Festival (2018), Asia House, London (2018), Zeytiburnu International Photography Festival, Istanbul (2018) and Benaki Museum, Athens (2016), amongst other places. His most recent exhibitions were held at MMAG Foundation, Amman (2020), Landskrona Museum (2019) and Rubenstein Arts Centre (2019). He was also the artist in residence at Centre for Documentary Studies, Duke University (2019).
Chandan teaches at the Sri Aurobindo Centre for Arts & Communications, Delhi and Ashoka University, Haryana. He is currently working on his first film and dreams of opening a stationary shop one day.
Falak Vasa

Artist (www.falakvasa.com
)
Falak Vasa (they/she) is an interdisciplinary artist, writer, and educator currently based in Kolkata, India. They graduated from the School of the Art Institute of Chicago with a Thesis in Visual and Critical Studies in 2018, and have attended artist residencies at Skowhegan, Maine and ACRE, Wisconsin. Falak has published a poetry chapbook with the unnamed zine project, worked at the Brooklyn Children's Museum as an educator, and shown their artwork at spaces like Elastic Arts, Chicago, Queens Museum, New York City, and Danzkafe Sowieso, The Hague. Currently, she works with the Amra Odbhuth queer and trans artists' collective.
Hena Kapadia
Founder & Gallery Director at TARQ
Hena Kapadia is founder and gallery director of the TARQ, a contemporary art gallery in Mumbai. After majoring in Art History and Economics at Tufts University in Massachusetts, she completed her Masters Degree in Modern and Contemporary Art World Practice at Christie's Education, University of Glasgow in London.
Since founding TARQ in 2014, she has been focused on exhibiting and engaging with art that is both process driven and thought provoking. A key interest of her practice is to maintain close relationships with both artists and patrons, and to encourage thoughtful acquisitions of art.
Hena's vision has grown into a robust gallery program that has seen nearly fifty exhibitions and a presence in art fairs and exhibitions in India and abroad. Apart from TARQ's regular shows, the gallery is also committed to building an educational structure that enables the art community to grow through discussion, debate and dialogue across the spectrum.
Premjish Achari
Curator | Art Critic
Premjish Achari is a Curator, Writer and Translator based in Delhi. His translations have appeared in Indian Literature published by Sahitya Akademi. He has initiated an independent curatorial platform called Future Collaborations aiming at theoretically and politically informed curation. He has received the prestigious Inlaks: Take on Art Travel Grant for Young Critics in 2016. He was the Fellow for Curatorial Intensive South Asia (CISA) 2017, at Khoj International Artist's Association. In 2018 he received the prestigious Art Scribes Award by Prameya Art Foundation for developing new curatorial paradigms. As part of the award, he attended the residency at the acclaimed Chateau de la Napoule in France.
He is the Co-Curator of the public art exhibition 'Navigation is Offline' along with artist Jagannath Panda as part of Bhubaneshwar Art Trail 2018. His recent curated shows are 'A Time for Farewells' at the Haverford College, Pennsylvania in 2019, and 'Workers and Farmers: A Panorama of Resistance' at Khoj, Delhi 2018. Achari is a regular contributor for Art India and Take on Art.
He is a Visiting Faculty at Shiv Nadar University where he teaches art history and theory. He is pursuing his PhD titled "Temple Arts of Medieval Kerala: Constructing a Regional Identity" from School of Arts and Aesthetics, JNU, India.
Priyanshi Saxena
Art Advisor | Founder/ Director, IAM (Indian Art Market)
Saxena helms the art advisory PSArts, building and managing art collections, and consulting on the South Asian Art Market, and the director of IAM, working at restructuring and connecting the regional art market in India.
She is part of the core team of
abr
, an alliance of cultural practitioners creating a network of support by commissioning performances/digital works; and an advisor to Flint Create, the business building and strategic advising arm of the cultural communication agency- Flint Culture. She has worked with contemporary and modern South Asian Art galleries (on institutional acquisitions, and international art fairs); and an art foundation, curating exhibitions in Delhi; and among others, a collateral project at the 56th Venice Biennale. She has also written extensively on contemporary art practices and collecting. Prior to working in the Art Market, she worked with JWT, MTV India, and the newspaper DNA.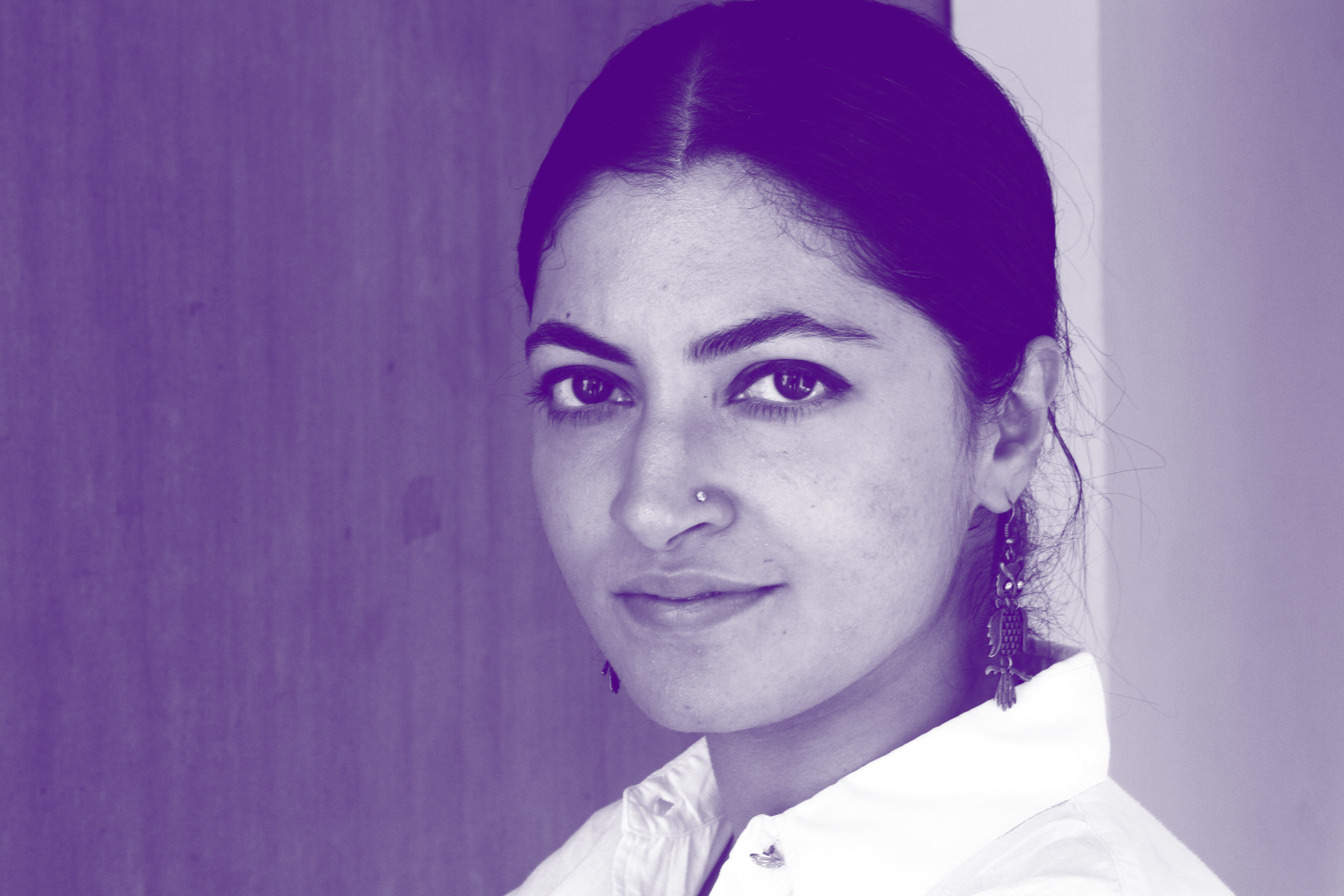 Radha Mahendru
Curator
Radha Mahendru is a researcher and curator. Locating her practice at the intersection of art, advocacy and activism, her work opens out forms of engagement that art can produce outside of the exhibition space.
Till recently she was the Senior Curator & Program Manager at Khoj, where she conceptualised, planned and executed residencies, exhibitions and seminars, and led socially engaged art practice, public programming and fundraising projects. She was the lead curator of Aesthetic Warfare: Digital Earth, Khirkee Festival, and Landscape as Evidence : Artist as Witness. Other recent curatorial projects include This Must Be True, Asia Assemble, Voices from the Margins, Khirkee Voice and The Khirkee Storytelling Project. She is the co-author of "The Horizon is An Imaginary Line," a semi-fictional graphic novel about a young Somali woman's encounters as a refugee in India.
Trained as a filmmaker at the Srishti School of Art and Design, Bangalore, she has previously worked with oral history archives and provided film and video support to grassroots organisations towards their advocacy work.
Focusing her research on the productive overlaps between ecology, gender and digital humanities, she is currently imagining how we can weaponise our digital habits to disrupt algorithmic echo chambers.
Photo credit: Shantanu Prakash
Rahul Kumar
Artist | Journalist
Rahul lived a parallel life juggling a corporate career and his arts practice for a very long time. His love for arts began 23 years ago. He completed his MBA and entered the corporate world just 20 years back, when he was coerced by his family to get a 'life'. A Fulbright Scholar with a Masters-in-Arts from USA and a Charles Wallace fellow, he received scholarships from India Foundation for the Arts and Ministry of Culture (Government of India). His works have been auctioned at Sotheby's-London and a large-scale installation presented as a curated project at India Art Fair (2015). His works are part of significant collections, including the Kiran Nadar Museum of Art. He was part of First Indian Ceramics Triennial in 2018.
Rahul stepped out of mainstream corporate life and was the founding team member of an art e-comm venture incubated by NDTV. He led the business categories and also co-anchored a programme for NDTV-Prime. Safely out-of-the-rat-race, he is now living his dream, writing on visual arts, curating art shows and residencies. He is the Editor (Arts) with STIR and consults for Arts Illustrated. He has been a writer for MINT-Lounge and has been published with Canvas magazine, Harper's Bazaar, Scroll, The Indian Quarterly, TAKE on Art, Open Magazine, and Vogue.
Samira Bose
Programmes Coordinator at Asia Art Archive
Samira Bose is Programmes Coordinator at Asia Art Archive in India, an independent non-profit dedicated to documenting and making accessibles recent histories of art from across Asia. Previously, she was Programmer and in-house Critic at Dharti Arts Residency 2019 (Serendipity Arts Foundation), and on the core team for Kochi-Muziris Biennale 2018. She completed her MA in Arts & Aesthetics at Jawaharlal Nehru University.
Sanket Jadia
Artist | Educator
Sanket Jadia, is an Inlaks Fine Arts Awardee, 2017. He was recently featured in Forbes India 30 under 30. The 29-year-old artist has developed a practice that deals with history and historical images that chronicle events of conflict and violence. He is interested in the narratives and counter-narratives that formulate the public discourse, or rather 'popular' discourse around these key moments—How do representations of critical junctions in history shape the way society looks back on them? What form does collective public memory take with the absence of imageries, and vice versa?
Sitara Chowfla
Curator | Art Consultant
Sitara Chowfla is a curator, writer and art consultant from New Delhi. Her work seeks to find experimental formats of exhibition and display and is interested in the possibilities of the exhibition as a discursive space for exchange, learning and multiple kinds of interaction. As an arts consultant, Sitara supports the growth of new cultural institutions and works towards creating spaces for professional development in the creative sector.
Sitara Chowfla is the founding curator at Pulp Society a new contemporary art gallery and project space in New Delhi, and co-organiser of the Goa Open Arts Festival 2020. She was previously the Guest Curator of Public Programmes at the India Art Fair (2018-19), Curatorial Assistant at London's Art Night (2018), curator-in-residence at the RE: Directing East at the CCA Ujazdowksi Castle (2015); Senior Curator and Programme Manager, Khoj International Artists' Association (2013-2017). Sitara graduated with an MA in Curating Contemporary Art from the Royal College of Art in 2019.
Photo credit: Marwah AlMugait
Veeranganakumari Solanki
Independent curator | Art writer
Veeranganakumari Solanki is an independent curator and writer. Her research interest lies in the manner in which images are used and interpreted, ways in which interdisciplinary forms and art merge to create dialogues that travel from public spaces into private ones and the way curatorial research can be structured around artistic practices that expand the ideas of medium specificity through story-telling. Her curatorial projects have primarily focused on South-Asian art practices. She was the 2019 Brooks International Research Fellow at Tate Modern in the curatorial and photography department and a resident at the Delfina Foundation. Veerangana is currently based in India.